Pilates Reformer - The Pilates Reformer is a mat-like carriage, attached to a frame by straps. The straps are weighted allowing for increased intensity of core exercises. Greater flexibility can be acheived by using the weighted straps and carriage to assist stretches. Controlling the movement of the carriage requires strength and stability through the deep core muscles which results in improved posture, flexibility and strength through the whole body.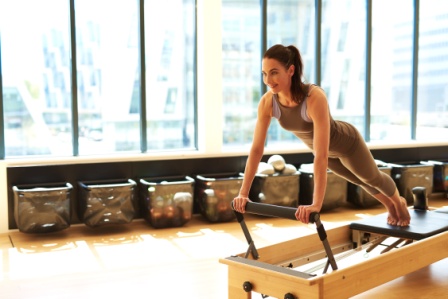 Cadillac / Trapeze Table - The Cadillac / Trapeze Table is an adaptable piece of equipment which facilitates mobility and control at an individual level. The different elements include leg springs, arm springs, push through bar and roll up bar. These elements allow for a varied, challenging and fun workout. The Cadillac can be used for:
Management of spinal stiffness and pain

Strengthening core musculature

Improving spinal flexibility

Upper limb rehabilitation

Sports rehabilitation
Spine Corrector - The Spine Corrector is an essential Pilates tool. It can be used to perform exercises that lengthen and strengthen the torso, back, shoulders, and legs. It is very useful in correcting or restoring the spine's natural curvature. The spine corrector is ideal for patients who suffer from osteoporosis, scoliosis and poor posture.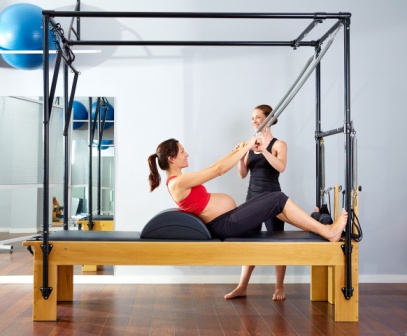 Wunda Chair - The Wunda Chair is a versatile piece of equipment with pedals on one side used for a variety of strengthening and mobility exercises. The pedals can be divided in two, allowing independent movement. Adjustable spring resistance creates challenging exercises and allows use for multiple aspects of strengthening and rehabilitation. The Wunda Chair is suitable for:
Management of spinal pain

Strengthening core and hip musculature

Post-operative rehabilitation

Sports rehabilitation

During pregnancy
Session Options
Bodysmart's Physiotherapists want to make sure that we develop a unique and targeted program that works to optimise your outcome and gives you the results that you aspire to. Whether it is improved strength, improved flexibility, higher performance or to help you overcome an injury, this process will allow us to develop a unique program that best suits you.
To ensure we have a high level understanding of your baseline status, we start with a 40 minute Comprehensive Assessment where we take a detailed past and present medical history, assess your movement patterns, mobility and flexibility and your core. From there we offer a choice of individual 30 or 40 minute 1 on 1 sessions or our semi private 40 minute session with 1 Physiotherapist to 3 clients. During all sessions, your program will be individualised and tailored to your unique status and goals.
Step 1: Attend a 40 min 1:1 Comprehensive Assessment / Program Customisation Session
One of our skilled Physiotherapists performs a 40 minute 1:1 Comprehensive Assessment / Program Customisation session which includes:
Questionnaire of symptoms

Range of Movement Analysis

Postural Analysis (including digital photos)

"Core" strength grading

Education on Core Activation

Understand your goals

We shortlist your issues

We develop a Customised Exercise Program on the equipment

We introduce you to the exercise equipment
To book your Initial Comprehensive Assessment, call Bodysmart on

(08) 9481 8708

or email reception@bodysmart.com.au.

Step 2: Attend 1-3 One-on-One Sessions doing your unique, customised program
Perform 1-3, one on one (30, 40 or 60 minute) sessions with one of our Physiotherapists. This will improve your confidence and ability in using this specialised equipment. You have the option of continuing at this level or changing to a semi private arrangement where one Physiotherapist works very closely with 3 clients simultaneously (refer to Step 3).
Step 3: Attend Semi Private Sessions doing your unique, customised program
Once you are confident in using the equipment you can particpate in semi private 40 minute sessions. The semi private arrangement is where one physiotherapist works very closely with 3 clients simultaneously. Each client completes their own individualised exercise program under the close supervision of an experienced Physiotherapist. At each session your form will be checked and your program progressed. Semi private sessions can be purchased as a casual session or in packs of 5, 10 or 25.
Due to the individualised nature of our Physiotherapy Reformer Pilates sessions, they are billed as a physiotherapy consult and health insurance rebates may apply. For more information on Private Health Rebates click here.
We also have the following downloads:
Pilates Enrolment Form - Form for all New Patients

Pilates Re-Enrolment Form - Form for Existing Patients who have previously attended our Bodysmart Pilates Courses